EXPERIENCE. EXCELLENCE. EXILE.
Since 2008, Exile has been delivering fit-for-purpose solutions in automation, communications, and manufacturing. We help our clients achieve optimal productivity and continuous improvements through our unrivalled technical expertise and innovative thinking. Our reputation for solving complex problems, quality-focused control system integration, and unparalleled commitment to clients continues today. Exile was acquired by CDN in December 2021 for its like-minded performance, client service, and strong culture.
Exile is a full-service industrial automation company that can provide a start-to-finish solution. Our capabilities are endless, whether you require project design and management, programming, control panel manufacturing, installation, testing, maintenance, licensing, and more. We also offer solutions for DCS, PLC, HMI, RTU, SCADA, or assistance with telecommunications. As a leading industrial automation company in Western Canada, we understand the importance of having operational and effective automation solutions — the smoother the process, the less time wasted and the higher efficiency you'll experience. From simple well sites to installing a large DCS, PLC, or SCADA system, we are fully equipped to take on any project.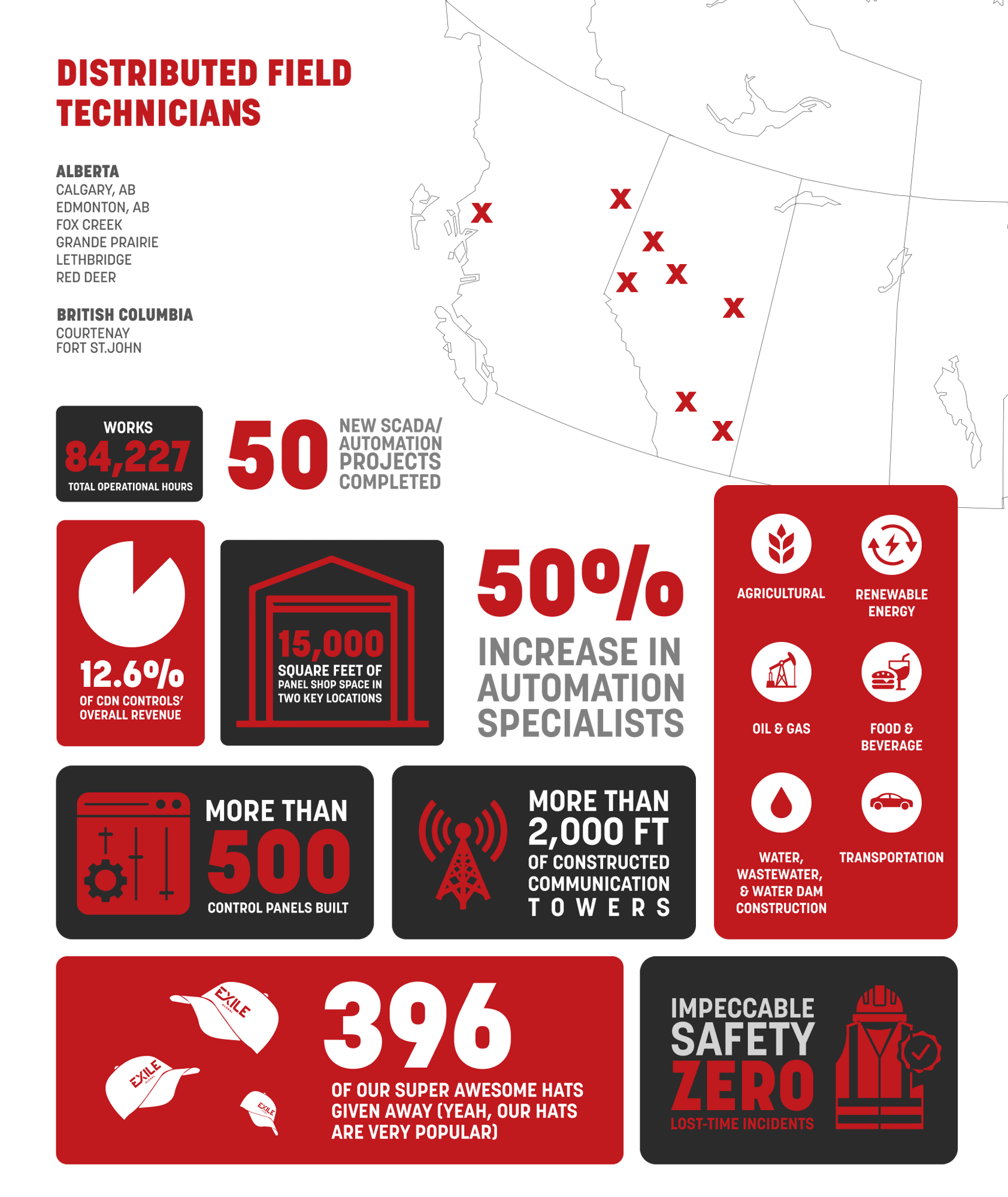 *Timeline covers November 2021 to November 2022, the first year of their acquisition by CDN
24/7 TOLL-FREE
PHONE NUMBER

1-855-530-8151
#30, 3815 – 32nd Street NE Calgary, Alberta T1Y 7C1
We're prepared to meet your needs. We put our best foot forward, with the expertise, experience, and equipment to handle any request. We're also equipped to operate nearly anywhere. Give us a call, send an email, or visit one of our locations today!